Warriors are experts at close-range combat.
Moves: Dash Attack - use to escape or inflict damage; Uppercut - sends the enemy flying; Rapid Stab - a fast, repeated attack.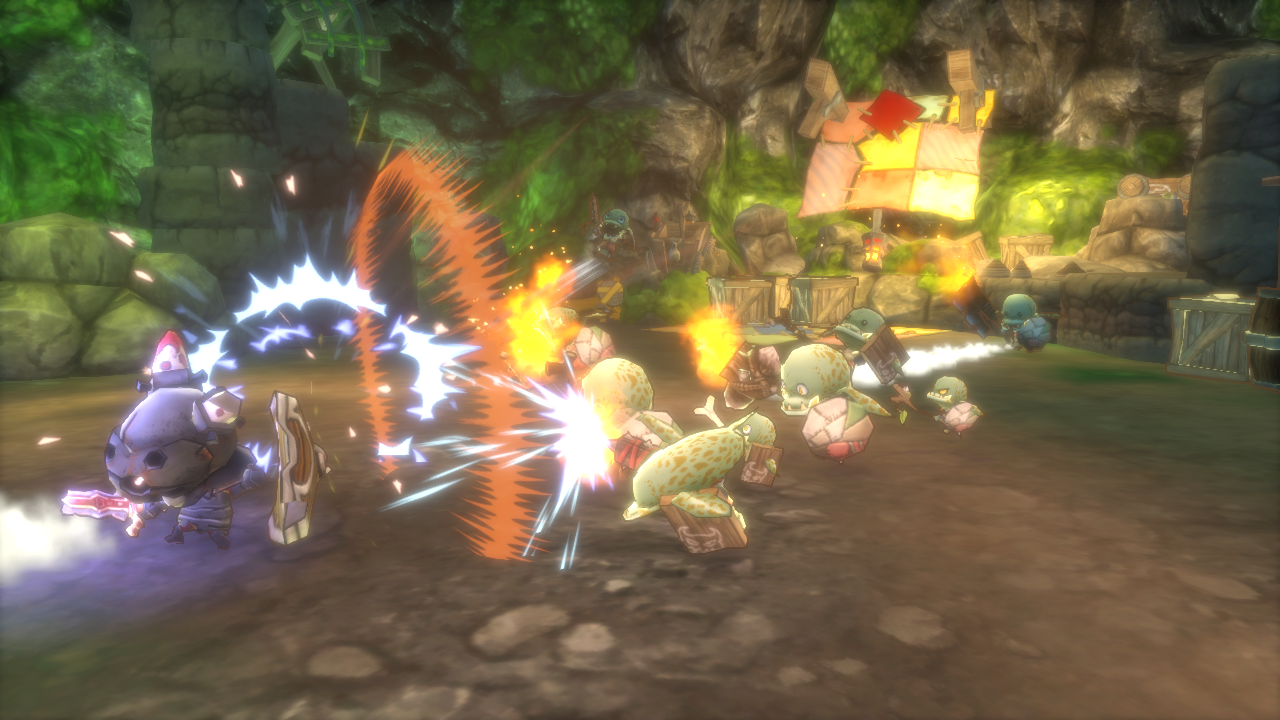 Warriors don't fare well against ranged attacks, preferring to fight in close!
【Special Abilities】
Guard Attack
Warriors can perform normal attacks even while guarding.
Dash Attack

Perform by pressingthe instant you tilt.

The warrior will rush forward in the direction of, attacking as they go.

Uppercut
Perform by pressingtwice in quick succession.The warrior's shield will shoot up, sending enemies flying.

Rapid Stab

Perform by tappingmultiple times from the start of a normal attack. The warrior will stab repeatedly at high speed.
【A-Skills】
Skills
Effect
Bash
Batter enemies with a shield to send them flying.
Rush
Sends enemies flying while running at full speed.
Spinning Blade
Attacks nearby enemies while whirling around. Rotateround and round for added power.
Charged Attack
A powerful single strike, executed by holding the button down to build up power. Has five levels.
Shield Break
A powerful attack that can break through the guard of strong foes and stagger them.
It also puts it in a guard break state.
Falcon Counter
A high-speed slash.
Bleeding Gale Fang
Unleashes a continuous attack. Effective against goblins.
Comet Punisher
Strike with the energy of a galaxy. Can shock enemies.
Fenrir's Fang
Swings the sword around to create a glowing aura.
Star Slasher
Deals an uppercut and slashes at the same time. Effective against flying enemies and demons.
Cross Chopper
Cuts down foes with holy light. Effective against the undead.
Energy Gather
A sword technique devised to knock on heaven's gates.Effective against demons.
【B-Skills】
| Skills | Effect |
| --- | --- |
| Rocketman | Charge up by pressing , then go flying. Causes damage to those near where the missile lands. |
| Stone Throw | Throw stones to stun opponents. |
| Roar | Inflicts nearby opponents with fear. Temporarily levels up your attacks |
| Super Guard | Reinforces your guard until AP runs out. Protects against most attacks. |
| Shield Charge | An offensive and defensive skill that lets you advance and attack while in guard. |
| Ninja Sprint | Move at high speed to slip behind the enemy and evade attacks. |
| Appeal | Draw enemies toward you. |
| Beast Jet | A full-power, full-spirited, full-body tackle! Use the to change direction. You can evade bosses' strikes while attacking! |
| Volley | Summons fire-breathing knights of yore. Effective against beasts. |
| Dragon Quake | Summons a pillar of fire from the ground. Use it in combination with other attacks. |
| Spear's Swansong | Rushes into the enemy with strong consecutive strikes. Control the direction with the . There is a chance of freezing the enemies. |
| Demon Decimator | Attack using your weapon and a kick. Effective against human enemies! Kick'em to the curb! |
【Team Skills】
Skills
Effect

Cheer

Greatly boosts the attack of all players.
Iron Phalanx
Increases defense and protects against attacks from all directions.
All classes will be able to attack from guard.
Group Rus
All team members affected by the skill perform a Rush simultaneously.